Journal Entry:
Wed Aug 12, 2009, 6:54 AM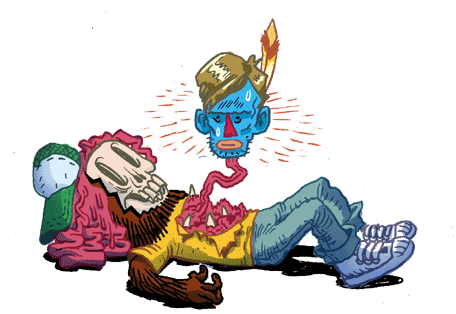 Wow this one got some favs

Thanks for all the kind words and new watchers and
all other unexpected high statistical achievement! lol
FINALLY
i´ve overcome my artist block!
This was mindboggling! geezers! i´m sorry for all the delay on shipping out your books and illos - i get hold of it asap!

(all commissions included)
Over the last weeks i´m pretty much occupied with getting my theories and shit done for graduating from artschool - i recommend to start early on this - i haven´t - now i´m in the shit.
I´m collecting right now some facts about getting into comics for
my final theories and maaaaan is this a nasty and also a fine biz!
I´m now awstruck how i start the work - positive vs. negative?
But this is only 50% of the graduation - the other 50% is practical: and here it hit me like a bolt today - i think i have my idea! yay!
I´ve found a little truth in the little sentence that´s written on our kitchen wall "you will find your love at the public library" and yep is true -
I packed me a staple of books about native american history and the ancient myths and stories about the "trickster", the raven and the "kánekelak" are mega awesome! I wonder just in what format i pack it - maybe the idea gets old any moment but so far i´m eager to let it take over!
Soon some more updates on here...
:thumb84233694:
Listening to: El Grupo Nuevo de Omar Rodriguez Lopez - Cryptomne
Reading: John Bierhorst - The Mythology of North America
Eating: MORE CIGARETTES!!
Drinking: MORE COFFEE!!!

Watch